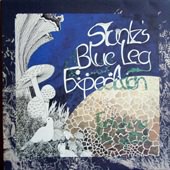 SBLE is the side project of Cary T. Wolf, singer, guitarist and main songwriter with the Milwaukee based psych-folk-rock band The Petals, who have released two albums, several 7"es and compilation tracks since 1989. Traveling by Spore was recorded with the help of J. Frankovic (Plasticland, Frank-O-Fest), all of the Petals and several other guest musicians. by using flutes, mandolin, sitar, banjo, tambourine, autoharp etc. SBLE succeed in creating an atmosphere that is playful and relaxed, flowery and fragile, moody and magic. The music ranges from acoustic-based psychedelic folk to intense dreamlike psychedelia. Catchy, memorable melodies underline the surreal fairytale lyrics.
LP

OutOfPress
LP contains two tracks that are not on the CD and vice versa.
CD

OutOfPress
CD contains a 12-page booklet and tracks not on the LP.