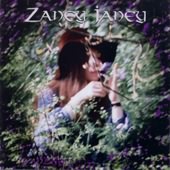 Picture yourself lying in the grass on a bright summer day gazing up at the sky. Let your thoughts drift and slowly lose yourself in the blue wideness. Inhale the scents and fragrances that float in the air. See rhythms forming out of space and time. Zaney Janey rules... Jo Quinn (vocals, flute, recorder, flageolets, kazoo) and Paul Alan Taylor (lead and rhythm acoustic and electric guitars, 12-string guitar, jew's harp, percussion) both are from Southampton, UK, based folk/rock group Mary Jane. Peter Jardine (rhythm acoustic and electric guitars, vocals, bodhran, kazoo, percussion) of funk outfit Chooby completes the trio. Zaney Janey use varying styles of music to express a story of journeying through the events and characters of an unconscious, archetypal world of dreams and experiences. Fragile acoustic folk, joyous and pensive, that touches on rock, jazz, psych, Celtic folk. KALLISTI!
LP
15.00 €
InStock

CD
12.00 €
InStock
CD contains bonus track.
Debut 7" of this British trio consisting of Paul Taylor (guitar), Jo Quinn (flute, vocals), both from folk-rock band Mary Jane, and Peter Jardine (guitar, vocals). Sad Day from their debut album combines the melancholy of falling rain with a rhythm that drives the clouds away. Prelude is an acoustic folk number.
7"
4.10 €
InStock